Independent lab confirms breakthrough for military and aerospace product development.
Austin, TX – January 15, 2015 – Specialty touch screen and display enhancement manufacturer, Touch International, confirmed today their 24" MulTI-Touch high performance projected capacitive (P-CAP) sensors passed military and aerospace EMI/RFI requirements. This announcement follows the recent breakthrough on the company's 10.4-Inch PCAP sensor which passed the same barrage of tests.
"We continue to push the technology envelope for high reliability and advanced markets such as military and aerospace, and this is just one more step in the right direction," says Shaun Detmer, Marketing Director. "While other companies continue to avoid the challenges associated with development, and instead offer yesterday's technology, we took a head-on approach to advancing the market."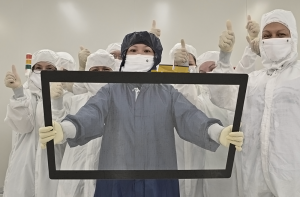 The key problem implementing P-CAP technology in applications such as military is the electromagnetic interference and susceptibility. The latest release of the S-Series sensors was tested in an independent lab against MIL-STD-461F with a frequency of 30MHz-18GHz and DO-160G with a frequency of 100MHz-6GHz. The sensor used for testing was a TI designed 24-inch glass-glass projected capacitive with a 1.1mm cover glass. The sensor maintains excellent performance and optical clarity while remaining completely compatible with TI's existing library of enhancements such as optical bonding, optical filters, custom cover glass, bezel integration, and other value-adding solutions. Military, aerospace, transportation, and medical designers or manufacturers are able to tackle EMI/RFI compliance and regulation issues easily at the component level.
All of Touch International's projected capacitive touch sensors are Windows 7/8 compatible and can be customized to work with any enclosure, bezel, and display. Sensors are available with I2C or plug-n-play USB connectivity. Demo kits are available and feature optically bonded sunlight readable displays.
About Touch International
Touch International, headquartered in Austin, Texas, was founded in 2002 by Michael Woolstrum and long-time veteran, Gary Barrett, the company's CTO. TI has become a world leader in touchscreen, EMI filter, and enhanced display technology. The company, who's Engineering and Design facility and Corporate Office is located in Austin, Texas, operates 2 manufacturing facilities in Asia.
http://touchinternational.com/wp-content/uploads/2018/05/TI-Logo-Long-Caps-Web-300x54.png
0
0
admin
http://touchinternational.com/wp-content/uploads/2018/05/TI-Logo-Long-Caps-Web-300x54.png
admin
2014-01-15 09:13:56
2018-10-03 13:31:49
Touch International Announces 24-Inch Projected Capacitive Touch Screen Passes Military and Aerospace EMI/RFI Requirements.